How to Make Your Own Dalgona Coffee While Staying at Home
Stuck at home but still need your daily coffee fix? Not to worry, Dalgona is coming to save the day. The new internet sensation isn't a who but a what. It's a trendy coffee beverage that's made of ingredients you can easily find in your cupboard.
The drink cemented itself as the hottest new fad when the coronavirus pandemic caused many to participate in social distancing. Limited stocks and outside interactions compelled coffee lovers to find another way to satisfy their cravings. India is not an exception to this as Indians are also being asked to stay at home and limit their contact with other people as much as possible.  
What Is Dalgona Coffee?
How Did It All Start?
The viral drink is actually based on an Indian drink called Phenti Hui coffee, or simply beaten coffee. The only difference is that the original drink's recipe requires the milk to be placed on top of the whipped mixture rather than the opposite. 
Dalgona coffee gained popularity in South Korea when Jung Il-Woo, a highly sought-after South Korean actor, ate in an eatery in Macau. He was served a drink that was very similar to the popular honeycomb toffee in Korea called dalgona, which combines milk, coffee, or tea with honeycomb toffee candy. He then shared it in a variety show called Stars' Top Recipe at Fun-Staurant, a popular TV show in his home country. 
Korean netizens loved the idea and started the trending hashtag of #dalgonacoffeechallenge which featured their homemade versions of the drink. It gained steam when Korean YouTube stars started making the drink on their channels. The drink became known worldwide when TikTok users from around the globe jumped in and tried it as well.
What Is Dalgona Coffee in the First Place? 
The Dalgona coffee we know today is characterized by a foamy top with a milk bottom that is made of instant coffee, sugar, hot water, and milk. The squishy foam top is made from instant coffee, sugar, and hot water whipped together for a time. 
Many folks have created variants of the viral drink already. These include using cocoa instead of coffee, or even topping the drink with honey. Unfortunately, ground coffee cannot be used to create the foamy top because of its properties. Stick to instant coffee on this one!
Making Dalgona Coffee
Get your coffee fix!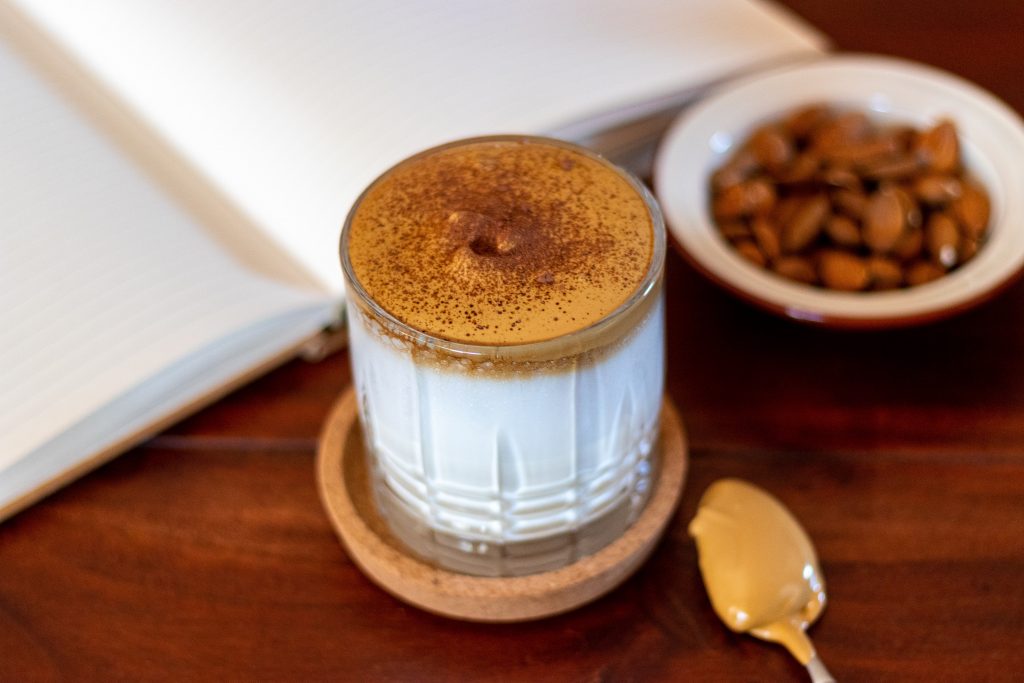 Are you now excited to actually make the delicious drink yourself? Check out the different recipes below and follow the steps. Have fun while getting your caffeine fix!
The Classic Dalgona
The first recipe is the classic one that everyone has probably tried, and you should, too. Here is what you will need: 
Ingredients
Instant coffee

Sugar 

Hot water

Milk 
Equipment
Hand mixer or whisk

Mixing bowl
Steps
The first step is to measure out your ingredients. You want to have equal parts of instant coffee, sugar, and hot water at the ready. It is recommended to start with two tablespoons of each and adjust your recipe from there. 

Next, combine all the ingredients in a mixing bowl and start whisking! It takes approximately three minutes for your mixture to create semi-stiff peaks with an electric mixer and a bit longer with a hand whisk. The mixture should be bouncy and marshmallow-like.

Add some cold milk in a glass and top it off with your whisked mixture. 
Lastly, make sure to take photos because if you don't post it on social media, did you really make it? 
Dalgona Coffee Without Milk
Dalgona without milk is amazing! Share by Atul Pinheiro on Instagram.
This is for the extreme coffee lovers out there that prefer not to taint their black coffee with milk. Try this out if you want your intense caffeine fix! 
Ingredients
Instant coffee

Sugar 

Hot water

Regular coffee
Equipment
Hand mixer or whisk

Mixing bowl
Steps
Measure out your ingredients in equal amounts. You can lessen the sugar if you do not like your coffee to taste too sweet. Two tablespoons is the recommended amount to start with. 

Next, combine the ingredients and mix using a hand whisk or an electric mixer until semi-stiff peaks form. 

Instead of milk, add your favorite coffee in a glass and top it off with your mixture.  

Serve and enjoy!
Enjoy a more caffeine-packed drink with this purely coffee option!
Dalgona With a Twist
There have now been many variations of the Dalgona coffee craze including using chocolate or cocoa instead of instant coffee. There have even been experiments with other flavors in the market. Many want to try the trend but dislike caffeine. So, here's a coffee-free version that is just as delicious! 
Ingredients
Powdered chocolate or cocoa (e.g. Milo, Hershey's, Tree Foods, Kesari, and Cadbury)

Sugar 

Hot water or milk for a creamier consistency
Equipment
Hand mixer or whisk

Mixing bowl
Steps
Add all your measured ingredients together. Four tablespoons is the recommended measurement. 

Combine all of these and whisk to form semi-stiff peaks. 

Add milk or, to take it further, a chocolate drink in a glass. Add ice if you want it to be extra cold. Top if off with your mixture. 

And, of course, take photos and enjoy!
So, for those who are sensitive or just do not like caffeine, this chocolate option is great for you! It is also recommended for growing children that cannot have coffee yet but want to keep up with the trend.
Keeping Busy
Keeping busy in these troubled times is a great way to alleviate the stress of staying indoors and waiting for good news. With Dalgona coffee, you can help yourself and your family have a better day, even by just a little bit. The recipes above are easy and enjoyable to do with a family member or a partner. If you want more quirky and interesting Dalgona recipes, matcha, malt, and peanut butter recipes are available! Make sure to try them out. 
With these recipes and steps, you can make the trendy Dalgona coffee right in your very home! The beauty of the recipe is that most of these ingredients can be found in your pantry already. Better yet, it does not cost a lot! So, get those ingredients together and start whisking away!